Cloud Computing Services For Perth Businesses
How secure is your network? We all like to think everything is fine, but how sure are you? Unless you work in IT, you probably will not know. No one wants to be hacked into and have a virus in come and delete or corrupt all of your company's hard work. It took years and years to build, and it could be gone in a very short time. That's something we would not wish upon anyone.
This is why we ensure that BizQuip provides advanced cloud computing services for businesses in Perth. These are major hubs on the very opposite ends of the country, and we are proud that our reach extends that far. In this day and age of the internet, the huge physical distance between these two distant cities of Australia is irrelevant.
What is cloud computing
As its name suggests, cloud computing is available everywhere, just like those white, fluffy-looking things in the sky. Unlike physical hard drives that only contain storage on that particular drive, this allows you to store and access data and programs on the internet. If you do all of your work on computers, but are unable to come into the office and use the desktop there, then you can continue working from another desktop anywhere at anytime. How amazing is that!
We are revolutionizing cloud computing services in Perth with our state of the art BizCloud data centres.
The data centres house up to 70 racks at an average density of 6kw each while any individual rack can easily power and cool up to 30kw.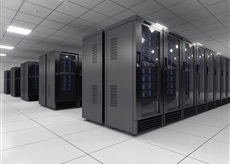 The major benefit of using a cloud computing services
With businesses in Perth and further going online, they have to keep up the current trends. These can be mobile devices like smartphones and tablets, but also laptops. Cloud computing increases efficiency and reduces IT costs and time delays. Best of all, your stored data will be securely backed up in a safe location in case you lose it or the data becomes corrupted on your hard drive. You can access data quickly, so there will be minimal downtime for your business and you get back to doing your work as soon as possible.
Data Centre Unique Features
Chatsworth (CPI) Vertical Exhaust Duct server rack cabinets as designed in conjunction with Intel.
Starline electrical busway power distribution system
Power
The data centres have up to 1 Mva of total power available
Individual racks can be easily configured to power up to 30kw
Power will be distributed via an A+B path
Cooling
Computer Room Air Conditioners (CRACs) will provide N+1 air cooling in a fully redundant configuration.
Industry leading Chatsworth Vertical Exhaust Duct (VED) rack cabinets keep the server/equipment hot air exhaust and the cold intake air completely separated to maximise cooling efficiency.
Chatsworth passive cooling solutions cabinets are the most cost-effective and cooling efficient thermal management solution on the market today.
Chatsworth VED rack cabinets can provide up to 30kw per rack with passive cooling and zero points of failure!
Communications
Amcom currently have fibre in the data centres
Nextgen have fibre within 100m.
The data centres are also connected to the BizCloud WAN network with connectivity to the Perth CBD, high speed internet, 1Gb ethernet WAIX and the Satcomms satellite earth landing station. Network switching and routing delivered through the Juniper SRX and EX platforms for 1GbE and 10GbE connectivity.
Network switching and routing delivered through the Juniper SRX and EX platforms for 1GbE and 10GbE connectivity.
Locations
Located very conveniently in the centre of the Osborne Park business district and close to the new Herdsman Business Park.
Located about 6 km from our Perth CBD data centre POP.
Soon to be opened Melbourne Data Centre
Management and Security
The facilities management system monitors all critical plant including electrical, environmental, fire detection and security systems.
All entry points, rack areas, other interior and exterior spaces are swipe card controlled, alarmed and monitored by multiple CCTV cameras
The sites are manned during business hours and remotely monitored 24×7.
Veeam backup solutions for cloud computing
These are specifically designed for use in virtual environments to allow for fast backup and recovery. It is ideal to be using VMware or Hyper-V for this. This will protect your virtual infrastructure with top rate features, including Instant VM Recovery, Instant File-Level Recovery, 2-in-1: backup and replication, built-in de-duplication, centralized management and much more.
Your data will be stored on BizCloud Storage. If things go wrong, your backups can be restored into the BizCloud VMware VPS platform at any time. However, this could take around 4 hours or more depending on how the amount of data involved. Recovery will not be as fast as it would be on the Veeam Cloud Replication.
Your Veeam Cloud Backup can be licensed and deployed in 2 ways:
1: You can bring your own Veeam that includes the data you stored on the BizCloud Cloud Storage.
2: Veeam can be rented on a monthly basis.
Our backup software is very cost effective and has a high performance rate where your data will be recovered merely hours later.
ShadowProtect backup solutions
Another option we have available for our Perth clients is ShadowProtect. It allows for fast, yet dependable Server Backup, Data Protection, Disaster Recovery and Systems Migration for Windows Servers. BizQuip can assist your business in choosing what cloud computing system is best for your business in Perth.
The ShadowProtect Server has the following backup recovery benefits:
Speedy data recovery of both similar and dissimilar hardware
Management console will have centralized back up administration
ShadowControl Image Manager combines backup image files automatically, which will be verified
Converts servers to .VHD or .VMDK
VirtualBoot technology for quick failover to a virtual server.
SQL, Exchange, Sharepoint, CRM and other critical applications will be backed up automatically
Individual files and folders will be quickly recovered and easily taken across to your new Windows Servers
Full and incremental backups are scheduled
BizCloud Shadow Protect Image Manager Services
We have set up a Shadow Protect Image Manager server connected to our Online Cloud Storage to provide a complete and cost effective off-site backup for Shadow Protect. This makes it easy to quickly replicate backups to the cloud before things go wrong.
Shadow Control ImageManager has these benefits:
Quick and automatic off-site replication with new ShadowStream technology
Off-site replication with IntelligentFTP
LAN and WAN based replication
Recovery of data within minutes with HeadStart Restore
Backup files automatically sorted to use less disk space
Ability to set retention policies for local and off-site backup images
Backup images verified
Cloud Security on the BizCloud Platform
Our cloud computing services in Perth come with many security layers to provide maximum protection from unwanted intrusion of your confidential data. The following features are included:
Firewalls
Perth businesses rely on the security firewalls BizQuip provide. These are designed to allow or deny network transmissions. Networks are secured by both hardware Juniper SRX firewall/security devices and hardened Linux virtual Firewall Appliances.
Active Intrusion Detection System (IDS)
BizQuip are leading the pack with our cloud computing services throughout Perth. This is because our BizCloud uses an Active IDS to observe and secure networks and systems for dangerous activity, and will block and combat it. Although most network providers will notify if there is an issue, usually by then it may be too late to do anything. But with an Active IDS, the system will be checking for suspicious activity, and then block and eliminate it.
Virtual Local Area Network (VLAN)
VLANs can go through multiple switches and communications to connect to remote areas. These are great for dividing up network resources so multiple customers can use these physical resources at once. VLANs have the same capabilities as a Local Area Network (LAN), but they are configured and run 'in memory' within the networking and communications equipment (switches and routers).
Network Segmentation
Our cloud computing services in Perth divides the network into multiple VLANs to keep your data separate from other networks from affecting your network. Network traffic such as SAN storage, internet, management, client data and any other traffic types completely separated from one another through this division.
Back End Hardware Management
The back end hardware that controls the main functions of physical servers, storage and networking hardware equipment is connected to other physical networks. This is done so security will be guaranteed and you will have complete control of the entire platform, regardless of external communications.
Monitoring
Our cloud computing services constantly monitor the BizCloud systems of our Perth clients. These systems are looked over every minute of every day by multiple alerting and notification systems to keep on top of any issues before they escalate and ruin everything.
To find out more about our comprehensive range of cloud computing services in Perth contact our experienced team today.